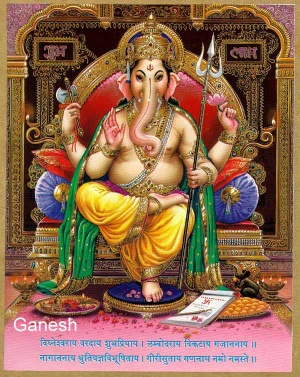 I was also there among our Housing Society friends to welcome Ganpati at Pathripul and bring to the place kept ready near the Shiva Temple in the compound.
We could hear these chants everywhere during this Ganpati festival.

At the time of Visarjan

(immersion), the following also will be added.
"PUDICHAA VARSHI LAVKAR YAA"
(Oh, Lord, come early next year.)
Incidentally, I remember a humour in connection with this.
From Kalyan, Titwala

is the third Railway Station in Central Railway, on the way to Kasara.

Titwala is quite famous for Ganpati Temple.

I used to go there along with family whenever possible.
Once, we were standing in a long queue for Darshan.

The devotees chant the same above mentioned words in praise of Lord Ganesh.

After an interval, one person will start and others will follow him.

Thus, one of the devotees started:
All of a sudden, others started laughing.

Because, the last one has no relevance (as during the above mentioned Ganpati Festival) as the Lord is there in this Temple always.

The poor devotee was tired and he lost his mind for a while and that was the reason for the occurrence of such a humour.
***